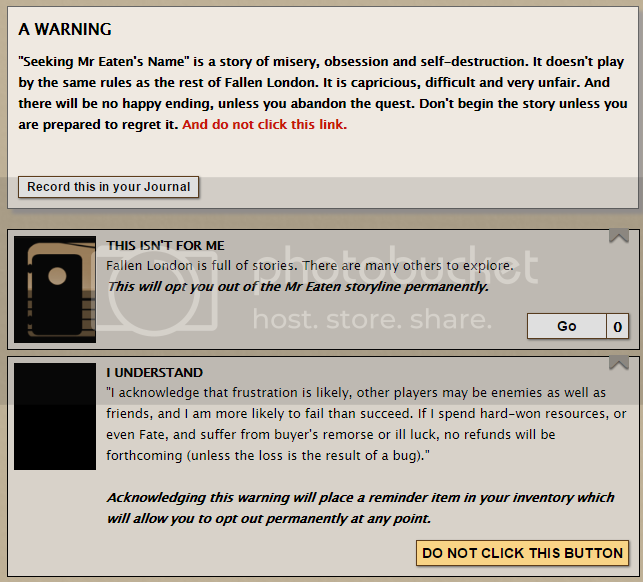 Now there's a button that demands to be clicked!
I just received my &quotA Bad End&quot and there's a bunch of information flying around right now so I figured it might be helpful to people if I collected what I knew so far in one place.
So Seeking Mr Eaten's Name has returned and from what I've been reading it sounds like any worries about defanging have been largely exaggerated. I was still relatively new when it was originally retired but I've been eager to jump in since I learned of it's existence (from the retirement letter). First up in the list of things we know.
Unaccountably Peckish
It's now a pretty terrible menace. Each point seems to add an undiscardable card to your deck (I'm not sure of the number where this stops being true) where all the options do terrible things to you in exchange for discarding a single point (the static storylet to discard all UP is gone). These cards also have options which are locked if you have Marsh-Mired in Dreams of Sustenance (MMiDoS) and grant that quality in addition to a single point of Seeking Mr Eaten's Name (SMEN). As with the other options, these options tend to be… not nice. Once you have MMiDoS you can't pick these options again until Time the Healer will remove the quality. These options appear to be the cheapest way to advance SMEN in the early stages (with some exceptions) although they require patience.
There is also an option to get SMEN if you don't have it when Seeking Curios in the Forgotten Quarter. It's only available at certain higher airs numbers and requires Nightmares 5 and (I believe) Scholar of the Correspondence.
Gaining &quotA Bad End&quot
After gaining my first point of SMEN I drew a card called &quotAn Alphabet of Scars&quot which unlocked at SMEN exactly 1 and Scholar of the Correspondence anything. This gives you two pretty straight forward options (not the two above), one warning you that you really shouldn't pick it. So, of course, I did. I'll admit to being pretty nervous about that as I'm SotC 21. This gave me +2 SMEN at the cost of a small boost to Wounds and Nightmares and about 1/5 of a level of Persuasive and Dangerous. I was then sent to the storylet you see above where I sealed my fate.
I'm not sure if this is the only way to get &quotA Bad End&quot. Given the specificity of the lock I'm assuming that if there are other options I will no longer be able to see them. This is what I know so far. I hope some of you found it helpful.
edited by An Individual on 6/9/2016