[color=#e53e00]HELLO! This is Olivia in her most excitable form (imagine a red setter puppy with a brand new ball; or an editor with a whole page of puns to tear up) posting about the exciting Kickstarter from one of FBG's incubee's.
[/color]https://www.kickstarter.com/projects/cosebelle/selling-sunlight-a-wandering-merchant-rpg?
[color=#e53e00]Over to Giada:[/color]
In the narrative RPG Selling Sunlight, you are a wandering merchant whose face got stolen by the Sun. To get your identity back, you'll have to explore a strange, hand-painted world, befriend other travellers, trade goods and information, and conspire against the Sun Himself.
Will you ask for His pardon to get your identity back, or defy Him?
Selling Sunlight is a role-playing game with no fights, a lot of bees and many, many words, focused on interpretation and atmosphere.
We want to make an experience that is like chamomile for the soul, for we think the world desperately needs more games like this right now. Games where nobody wants to murder you, where people with different cultures all live together, and where everything will eventually be okay.
(Being made by a Failbetter incuBEE, though, of course this game also features giant spiders made of ice, withering plant-people, fish that are also books, and pyromaniac prophets with a small sun instead of their head. But it's a cheery game, apart from the occasional fire-related accident, really.)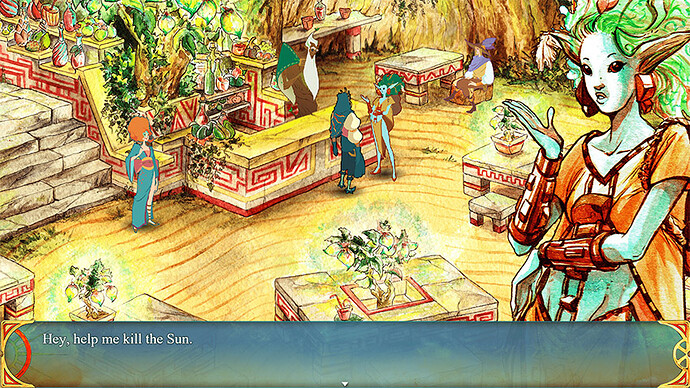 Interested? Please back us on Kickstarter and spread the word on Twitter!
Thanks for your support, and may the Sun always shine on your path.

[color=#e53e00]Guess who got so excited they forgot to put the link in? ME.[/color]
edited by babelfishwars on 9/19/2017