[color=#0066ff]Delicious Exceptional Friends! Your Exceptional Story for October is here![/color]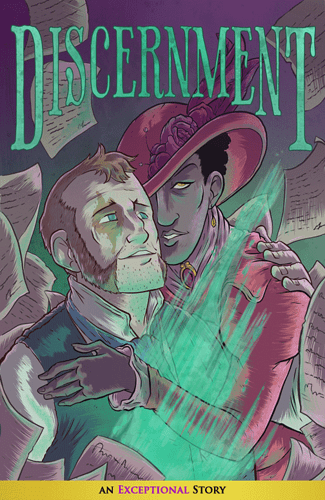 [color=#0066ff]The stolen soul of Salome. An exclusive Ladybones Salon where devils compare their collections. A man with a cosmogone birthmark.
Explore the trade in high-end souls and meet a Discerning Deviless in this story of love and infernal theology.
Play An Exceptional Story: Burglary of a Cartographer's Estate to begin.[/color]
[color=#0066ff]Discernment is by long-time contributor to Fallen London and Sunless Sea, the wonderful Em Short.[/color]
[color=#0066ff]
And for the first time, we have a piece of guest art in Fallen London! The Discernment promotional image and character avatars are by Mark Penman, an illustrator, comics-maker and lecturer in Game Art from Manchester.
[/color]
[color=rgb(0, 102, 255)]Please remember to be liberal with your use of spoiler tags when discussing this story. If you're unsure whether something is a spoiler, use the tag! Here's a reminder of our position on spoilers and guidance. [/color]
[color=rgb(0, 102, 255)]
In addition to a new, substantial, stand-alone story every month, Exceptional Friends enjoy:[/color][font=facitweb-1, facitweb-2, 'Lucida Sans Unicode', 'Lucida Grande', sans-serif][color=rgb(0, 102, 255)]
Access to the House of Chimes: an exclusive private member's club on the Stolen River, packed with content![/li][li]An expanded opportunity deck: of ten cards instead of six![/li][li]A second candle: Twice the actions! 40 at once!