Today, the seventh of December, is officially the holiday known as Ratmas! Officially! It's a long-standing tradition, you know. I didn't just make it up! Where are you going? Come back!
Okay! So! Ratmas! What is it? It's a very simple holiday to follow. This is what you do: Send rats. To other people. Easy, isn't it?
This year's Designated Official Rat Targ- er, Acceptant is none other than Alexis Kennedy!
Confused about how to send rats? Here's a tutorial!
First off, you'll need to find this card:

(Seekers of the Name can also use the Restitution card, to roughly the same effect)
The card contains two different kinds of rats, which you can then send! I'll let you choose whichever you want. I'm sure you can be trusted with good decisions.
You may send rats to Alexis Prime, or his secret, incredibly well hidden alt account. Be sure to attach a message! Maybe you want to submit thanks in advance for all the lovely Christmas content, or thanks for existing content, or a declaration of spite and hatred. The decision is yours!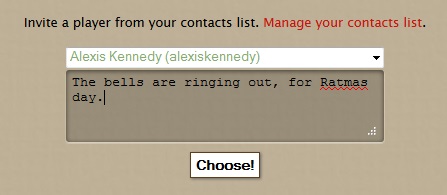 Acceptable gifts also include cats, surprise packages, jewels, stabbings, betrayals, calling cards, snubbed acquaintances, Christmas cards, boxes of exploding misery… but rats are best and most good of all. [color=rgb(68, 68, 68)]If you're incredibly rich, you can send Fate! I mean, he already has about a billion fate, but go ahead I won't stop you.[/color]
If you're struggling to find rats: Use Unfinished Business in Spite, hunt a rat in the Department of Menace, or just buy them from the Bazaar. They're only tuppence apiece.
If you end up being aggrieved by the RNG, you can also draw the Gift card at your lodgings, using Write Letters. It'll cost you 1 fate, but surely that's an acceptable price to pay for rats, right?


If you've fallen on hard times, you can instead use a letter and the power of the Imagination

Perhaps, though, the quantities of rats offered by Fallen London seem… inadequate. Thankfully, a simulation exists to provide you with all the vast quantities of rats you'll ever need to send!

I think that's everything! Enjoy the holiday season. Carouse, and send rats. Be merry. And send rats. Rats.
Alternate titles: St Rattus' Day, Raturday, That Day With All The Rats In, Faber Festivus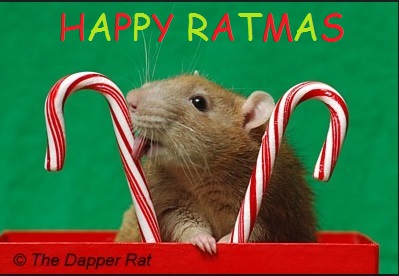 edited by Spacemarine9 on 12/7/2013