Lately I've been working my way towards an Overgoat but I've found tracking my progress a bit of a nuisance. There is an excellent script over here that I've been using a modified version of but it's annoying to have to find said script, copy it into the javascript console, and run it each time. So I decided to simplify the process. I've created browser extensions for Firefox and Chrome (sorry IE users but your browser is too annoying and crazy) that run this script each time you visit the Bazaar page to total the value of your items and held echoes and prints the result at the top as shown below.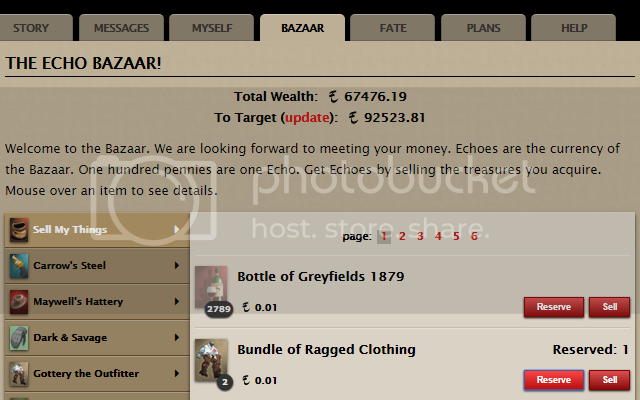 The Firefox extension is available here.
The Chrome extension is available on the Chrome Web Store here.
If you wish to gaze in horror upon my poor Javascript skills, you can find the source code I used to create the extensions on GitHub here.
Update 1:
It is now possible to exclude items from the total wealth calculation. On the &quotSell My Things&quot page if you click on an item it will become transparent and will be ignored for the purposes of calculating your wealth until you click on it again. Your excluded items are remembered in the same way that your target wealth is remembered. This feature is not available if your browser does not support local storage.
Update 2:
There is now a &quotReserve&quot button that appears beside the usual &quotSell&quot button on the &quotSeel My Things&quot page. Pressing it lets you set a number of items that are reserved. Reserved items are not included in the &quotTotal Wealth&quot calculation. For example, if I have 500 Deep Amber and I set a reserve of 100 only 400 will add their value to my total wealth.
Disclaimer
Standard legal warning. I have no affiliation of any kind with the Failbetter team. These extensions are third party and provided as is. There is no official support and you use them at your own risk. If you encounter problems with your &quotBazaar&quot button (or any other aspect of the game) please remove the extension and try again before contacting support.
edited by An Individual on 5/25/2018