Should you seek the name? NO! What's wrong with you? Why would you want to do that? Turn back now! Leave! In these dark waters, you will find only pain. The road is paved with disaster and awash with regret. Much will be asked of you. All will be demanded from you. There is nothing to gain and you will be left with nothing. Seeking is a slow spiral towards destruction. Tragedy without meaning inflicted upon the self. Un-asked for and un-compensated. If you value your life. If you value yourself. If you value anything, LEAVE NOW!
You're still here? Well, I tried. I've recently finished the first few major steps on The Seeking Road so I figured it might be helpful if I collected what I've learned here for others. Did I mention you shouldn't be here? Did I stand between you and destruction waving my arms in futility and declaring &quotYou shall not pass!?&quot Did it do any good? No? Okay then.
Flirting With Disaster
The best place to start Seeking the Name is by Seeking Curios and Secrets in the Forgotten Quarter. At airs 81-100 there is an option titled &quotIn your dreams, you hear a voice echoing hollowly each night&quot that unlocks with Nightmares 5 and Scholar of the Correspondence 1. Choosing it will give you your first point of seeking and boost your Scholar of the Correspondence if it isn't 3 or above. It will also give you 4 points of Nightmares and cost you about half a level worth of Persuasive and Shadowy. Having fun yet?
Another way to get that first point of Seeking is to become Unaccountably Peckish and pick one of the options that are locked by &quotMarsh-Mired in Dreams of Sustenance&quot on those scary black cards that show up. Some of these options hurt a lot. Others don't hurt at all. We'll talk more about these cards later, but for now know that the ACE OF HUNGERS (UP 1), SEVEN OF WORDS (UP 7), KNAVE OF REGRET (UP 8), and KNIGHT OF FEASTS (UP 9) are generally your &quotsafe&quot options. The reason I recommend the forgotten quarter over these is that these things can only be used once per Time the Healer and you'll want one available after the next step. So use one or the other depending on whether or not you're willing to wait.
A Bad End
So you've got your first point of Seeking. Now it's time to join Seeking proper. To do that you need to wait for a card. If you're a Scholar of the Correspondence, the card you're waiting for is &quotAn Alphabet of Scars&quot. If not, then you're waiting for &quotA Banner with a Strange Device&quot. The options here are pretty clearly labeled and they all hurt you in slightly different ways. They'll also all take you to this fun page.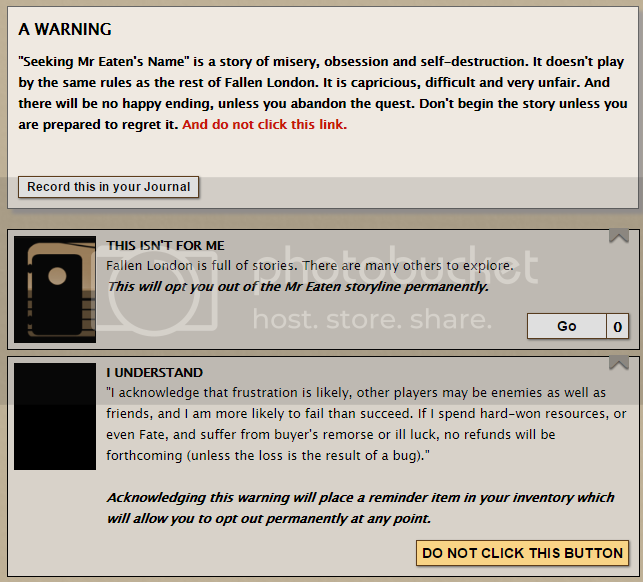 The button you should be clicking is the &quotGo&quot button, which will save you from this madness at the bargain price of 0 actions. But if you've read this far you're probably going to end up clicking the &quotDON'T CLICK THIS BUTTON&quot button. You fool. You poor, poor fool.
Did you click it? Then you should now have &quotA Bad End&quot and be at Seeking 3 if you were a Scholar and 2 if you weren't. My condolences.
The Seeking Road
The main thrust of Seeking centers around the Seeking quality and The Seeking Road, which should now appear in your lodgings. Increasing this quality is what unlocks the various story branches where you ruin your own life. There are two ways to do this. The first are the options that appear on The Seeking Road itself. These options are locked if you have any sudden insights, so no playing it safe with &quotPerhaps Not&quot retry tricks, and feature watchful checks and resource costs that scale with your Seeking quality, so they get harder and more expensive the further you go. The other option is the Marsh-Mired options on the Unaccountable Peckish cards. Once per week, these card's Marsh-Mired options will give you a point of Seeking up to 3 times the level of Unaccountable Peckish the card requires. So the ACE OF HUNGERS is capped at 3, SEVEN OF WORDS is capped at 21, KNIGHT OF FEASTS is capped at 27, etc.
If you go to The Seeking Road right now you'll see two options. One will halve your Watchful in exchange for a single point of Seeking. The other will halve your Scholar of the Correspondence in exchange for a single point of Seeking. DO NOT PICK THESE OPTIONS. They are ludicrously expensive and you will get a much more reasonable one at Seeking 4. Use the Unaccountable Peckish cards (any but the ACE OF HUNGERS should do) to get that first point or two.
Once you're at Seeking 4 you're past what I consider to be the first hurdle on The Seeking Road. If you want to spend resources to increase Seeking I would do it now. The option to spend Appalling Secrets to boost Seeking is by far the cheapest non-peckish option you're going to get. The higher seeking goes, the more expensive everything gets and the harder it will be to pass the checks. So boost Seeking as far as you feel you can at this early stage and then sitting back and using the Unaccountably Peckish options to get one point a week after that. Your first goal post is an opportunity card that unlocks at Seeking 7.
Controlling Unaccountably Peckish
Since Unaccountably Peckish will get you a free point of Seeking each week well after those points have become unreasonably expensive, being able to control your unaccountable peckish value is important. The best way to raise it is in The Flit with the help of a Starveling Cat. Go to Bats and Cats → Cats… → See what your Starveling Cat knows to get +3 Unaccountable Peckish. If you don't have a Starveling Cat, they occasionally come from being given a boxed cat or from a very specific bundle of oddities value but if you ask around the forum (specifically, The Singing Mandrake) you may be able to find someone willing to send you one.
Of course, once you have a high Unaccountable Peckish you need to bring it back down because those black cards are extremely disruptive and only useful once a week. To do that, just buy rubbery lumps in the first coil of The Labyrinth of Tigers. 50 Jade will get you -2 Unaccountable Peckish. Between these two options, you should be able to effectively control your Unaccountably Peckish value so that it's there when you need it and gone when you don't.
What do I do next?
Keep raising your Seeking value. Stuff will happen. It will be mostly unpleasant.
That's about it. Normally this is where I'd say good luck. But, Seeking being what it is, all I can do is provide one more feeble &quotyou shall not pass.&quot TURN BACK!
edited by An Individual on 8/26/2016