[color=#cc0099]Today marks the beginning of The Feast of the Exceptional Rose! It is a season of love and heartbreak, passion and secrets! It is the season of wooing and gift-giving!
Along with the ability to divorce, the year 1895 brings back the freedom to marry as well! The tax has been lifted! As well as this delightful news, you may now take your spouse on a special evening out![/color]
[color=#cc0099]
[/color]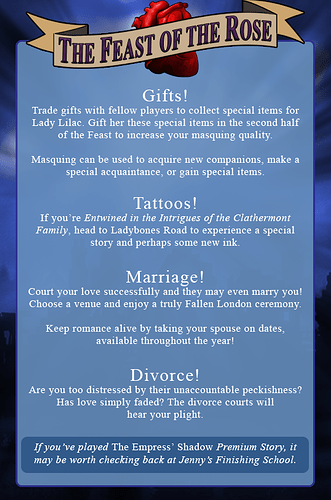 [color=#cc0099]
LOVE GIFTS
Send and receive gifts from other players!
Rewards from the Feast can be won by increasing your Masquing, through participating in the revels and the exchange of gifts. Use your Masquing quality to unlock special companions, only available during this festival!
Make friends for the exchange of gifts on Facebook, Twitter, Tumblr, Reddit or right here in this thread. Please feel free to use #ExceptionalFeast on other channels to alert other players.
MARRIAGE AND KEEPING THE FIRE ALIVE
Now that the marriage tax has lifted, you're free to court your partner all the way to the altar! Begin at the Attend to Matters of the Heart storylet to work your way up to a full-blown proposal! There are a multitude of exceptionally lovely venues throughout London for you and your partner to explore.
This year, special evenings out are now available to married couples. Choose a lively, elegant, or ecstatic assignation to impress your heart's desire. Begin planning with Attend to Matters of the Heart, available year-round from your Lodgings.
END YOUR INCONVENIENT ENTANGLEMENTS!
Has your spouse been too long gone? Are you too distressed by their unaccountable peckishness? Has love simply faded? The divorce courts will hear your plight; and, if they are satisfied, will end your marriage, so that you may seek out new love stories.
If you wish to divorce your partner, look for the option to seek a divorce on the Attend to Matters of the Heart card in your Lodgings.
SKIN-BOUND MEMORIES!
Clathermont's Tattoo Parlour! The place to come for inked proof of eternal love!
A unique story involving the Neath's famed tattooists, the Clathermont Family is available for the duration of the Feast.
Find the Clathermonts in Ladybones Road when you have A Name in Seven Secret Alphabets at 4 or higher. As part of the Feast, continue this story from the same area by playing News at Clathermont's from 13th February.


THE LADY IN LILAC
She examines you carefully. Her eyes swim with glints like violet wine…
The enigmatic Lady in Lilac returns to London during the Feast of the Exceptional Rose.
On the 13th February we will be releasing the Lady in Lilac card into your opportunity deck, allowing you to trade in your gifts for Masquing. From the 13th, you'll also be able to turn in your Masquing for special companions on the Encounters at the Feast card.
The Feast will end on the 20th February. The Lady in Lilac and Encounters at the Feast will remain available until the 24th, after which your remaining Masquing will be converted to Making Waves when Time, the Healer visits.


A WELL-FINISHED ROSE
For those of you who played The Empress' Shadow and taught at Sinning Jenny's Finishing School, checking in on your students during this festival will reveal a little something extra.[/color]
edited by Absintheuse on 2/6/2017