Delicious friends!
I have a confession to make. I'm a compulsive clicker.
After briefly looking at the results of an action, I tend to click away from it faster than I can read the description, immediately regretting this. Or the fact that I did not echo it to my journal.
As an experienced extensionsmith, I thought it logical to draft and assemble an automaton to keep a short log of last actions my character took. A sort of black box for Fallen London… Or a secretary that keeps track of your affairs. It looks something like this: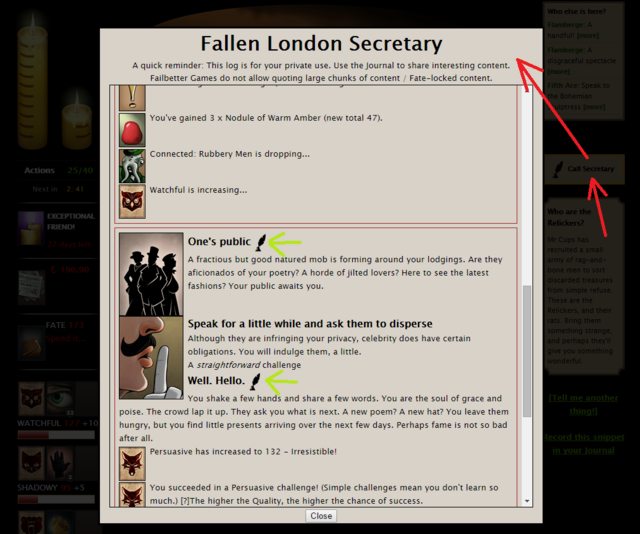 Clicking the added sidebar button opens this interface, which is a scrollable log of the last few (aiming for 30-50) events/storylets/conclusions you've experienced.
Green arrows mark clickable points that will bring up the echo-to-journal interface for the corresponding event.
Some caveats:
This extension is in very rough prototype stage. I'm not making it public at this point.[/li][li]This extension parses FL interface as best as it can. Nevertheless, there are always corner cases that it will not understand.[/li][li]For the same reason, it is very prone to breaking if/when Failbetter makes changes to Fallen London.
What is the purpose of this thread?
[ul][li]To assess public interest in such an extension, in view of caveats above. Please share your feedback on this.[/li][li]To request some sort of assessment by Failbetter - whether this extension has a right to live or must not be made public.[/li][/ul]
With respect to that last point:
The extension tries to uphold the spirit of &quotno automation&quot rule - it does not allow to automate any actions. Echoing still requires an explicit action and goes through the normal form.[/li][li]Ability to echo content that is already navigated away is equivalent to the player opening a new tab and then continuing to play from there, eventually clicking &quotRecord this to my Journal&quot in the original tab - it works.[/li][li]It does not allow to echo/see content that was not seen by the player.[/li][li]It does not try to build a database of content - all records are ephemeral and only last in memory while FL is open, with a set limit on how far the history goes.
Judge away, fellow Londoners.
edited by Alistair Cray on 7/18/2015