Delicious friends!
I'm happy to present to you yet another of my little helper extensions for Chrome.

Whitelisted as of 2016-03-22
[hr]
Have you ever been in a situation that you have to, repeatedly, scroll through a long list of storylets to pick that-one-option you pick every time?
Have you ever wished that was easier to select?
Well, your wish has come true (for Chrome, at least). Presenting Playing Favourites: an extension that allows you to mark certain branches/storylets as favourites, which highlights them and floats them to the top. You can also mark cards to help triage them.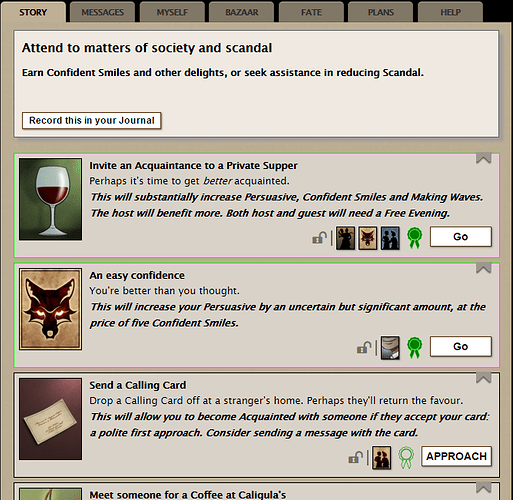 The most wonderful thing? You only need to set your favourites once, and they will sync to other Chrome browsers you use if Extension Sync is enabled.
Currently you can fine-tune the extension to only highlight the branches, float non-locked to the top (default), or float all to the top.
Download: Chrome Web Store
Source and bug tracker: GitHub
All feedback welcome.
edited by Alistair Cray on 10/29/2016