[color=#0066ff]
[/color]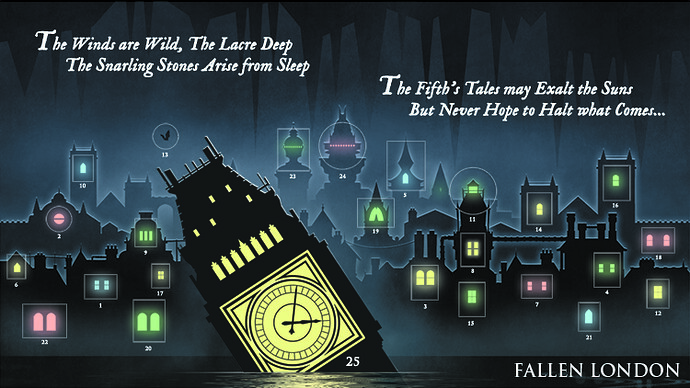 [color=#0066ff]
[/color]
[color=#0066ff]
[/color]
[color=#0066ff]
THE FALLEN LONDON ADVENT CALENDAR
Visit the Fallen London Advent Calendar every day until Christmas to receive a snippet of sepulchrally Yuley narrative, and something besides: trinkets, magpie-treasures, and occasionally, something rare.
Follow us on Twitter, Tumblr and Facebook to be reminded when a new gift is released.
Edit, 7th Dec: We've buffed the advent calendar so it works across more browsers! We also filled in the rest of the windows, to address a misunderstanding that it was simply a desktop background. Now you get to hunt and pick at doors to your heart's content.
CHRISTMAS CARDS IN FALLEN LONDON
Tell your friends you are thinking of them this festive season with a Fallen London Christmas card!
Your stock of cards will be replenished weekly by Time, the Healer. Find them in your Lodgings, under Send a Christmas Card.
(You no longer need to be acquaintances to exchange Christmas cards, unless you intend to arrange for the Bazaar to send a Christmas card on your behalf.)
Find new players to exchange cards with here, on the Fallen London subreddit, Facebook, Twitter (using #flcards) and Tumblr.
EXCEPTIONAL MERCHANDISE
The Fallen London Store is now bursting with clothes, accessories and gift ideas for you and your delicious friends.
New in: the Mr Sacks range, guaranteed to attract second glances at Christmas parties (is that Father Christmas? Where are his eyes?).
Also new for the season and by popular request: Hello Delicious Hot Chocolate mugs!
Here are Spreadshirt's cutoff dates for Christmas orders, don't miss out![/color]
edited by h4nchan on 12/3/2015
edited by h4nchan on 12/7/2015