[i]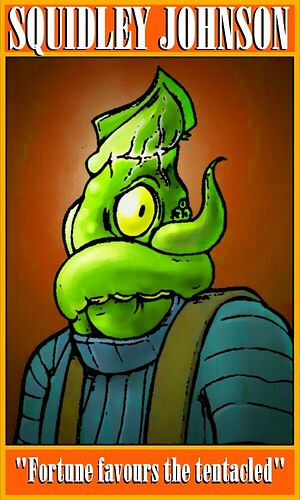 London is afire with political sentiment. The streets bristle with slogan-emblazoned newspaper stands, each one a miniature bastion prepared to repel supporters of rival candidates with vicious verbal barrages and occasional hurled fruit. The Dauntless Temperance Campaigner! The Implacable Detective! Feducci! Their names and faces are posted on every available surface. Urchins fold pamphlets into planes to pelt passers-by, mostly indifferent to the politics but eagerly seizing the opportunity to cause chaos.[/i]

Gideon Stormstrider weaves through the surging crowds, valiantly attempting to shield himself from the worst of the bombardment with a floral-patterned umbrella. He is mostly unsuccessful. "Politics," he says to nobody in particular. A few passers-by look at him with concern. "It's all the same, isn't it? Whichever candidate we choose for Mayor, we'll never make any real progress while we're under the thumb of the Masters."

Halfway across Flowerdene Street a ripe tomato slips past the shield of his umbrella and catches him in the face, bursting into a smear of unpleasant juices. Gideon looks around him for the perpetrator, muttering unpleasantries under his breath and wiping off the worst of the fruit residue with an irretrievably dirty handkerchief. Seeing no sign of his assailant, he continues down the street until he hears a sound that sets his teeth on edge – a high, thin warbling much like a balloon being deflated, coming from a nearby alley.

Gideon puts on his clockwork monocle and valiantly peeps round the corner of the alleyway. A Rubbery Man, accosted by a pair of street thugs! The suited cephalopod cowers on the ground and continues to screech, its tentacled face quivering. One of the thugs is tall and thin, the other short and fat. The tall one rifles through the Rubbery's suit pockets for valuables while the short one brandishes a knife nervously at the unfortunate squid, seemingly unsure how to shut it up.

Gideon is not one to go picking fights, but he has a certain fondness for Rubberies and a certain dislike for uncultured brutes like the ones that burned down his old University department. This demands action.

"I say! You there! Step away from the Rubbery!" he barks down the alley, brandishing his furled umbrella at the thugs. It could be said that he cuts a dashing figure, silhouetted against the bright opening of the alleyway, but such statements would be quite immodest.

"This ain't your concern, mate," says the tall one.

"Aye, best walk away while you can," says the short one.

"And let you steal from this innocent Rubbery Man? I think not!" Gideon advances down the alley. The short one charges, brandishing his knife. Gideon sidesteps nimbly and raps him sharply on the head with the umbrella, and the short one drops to the ground.

Gideon advances. The tall one takes a step back and hits a brick wall. He turns around in panic, then nods grimly, draws a pistol from his back pocket and fires.

The gunshot is deafening in the enclosed space. Powder smoke fills the air. When it clears, Gideon is still standing, his unfurled umbrella held out like a garish pink shield. "Bulletproof lining, rapid spring deployment. Marvellous! My modifications worked! I had my doubts myself, you know – I thought 'Perhaps I'm over-designing this umbrella a tad' – but it seems it was a success after all!"

A Sceptical Reporter's hand shoots up in the front row of the sparsely occupied auditorium. "Is this at all relevant to why you called us to a press conference to announce a Rubbery Man as a mayoral candidate?"
Gideon paces back and forth on stage. "Yes, yes, I'm getting to that part! You should have some more appreciation for the craft of storytelling, being a journalist and all. This is all relevant character development! How can the public believe in our candidate if they don't understand why I believe in it?"
The Sceptical Reporter sighs and sits back, wishing she were somewhere else. But the editor of the Strident Bugle insisted that every facet of the election should be covered, and so here she is, listening to a madman rave about his magic umbrella while his candidate squirms wetly on a bar-stool next to him.
"Anyway, where was I? I seem to have entirely lost my train of thought. Ah, yes, the tall one. After that… I believe I gave him a good drubbing, and then helped up our Rubbery friend here from where he lay in the mud of the gutter. It was that day that we developed a bond like no human and Rubbery have before. At that fateful moment, I understood truly what it was to be one of the downtrodden, the oppressed, the very dregs of society. I am proud to call Squidley Johnson my brother!"
Gideon takes hold of one of the Rubbery Man's arm-tentacles and holds it in the air. The Rubbery stands up and waves with its other arm. A smattering of applause ripples from the more drunken members of the audience. The Reporter's hand shoots up again. "Is it about my bruises?" says Gideon.
"Yes."
"No further questions on the bruises. So, onto the policies of our esteemed candidate!"
The hand goes up yet again. "Where did you get the bruises, Mr Stormstrider?"
Gideon frowns. "There may have been some embellishments for dramatic effect. To tell the truth, my valiant charge was more like a headlong stumble into the mud followed by a great deal of kicking by both thugs. Our venerated friend Squidley was the one who pulled me from the ground after it had caught both of them by surprise with a fallen piece of lead piping. But the message is the same: the downtrodden shall no longer be ignored! Vote Squidley Johnson for a candidate who truly cares about lifting the yoke of oppression!"
He pokes Squidley, and the Rubbery raises both arms. "Sassafras!" it gurgles. A few chuckles break out among the audience, along with more drunken clapping.
"That means 'Thank you for your appreciation, and a very good night to you all!'" says Gideon with a dazzling smile. With that, he leads Squidley off the stage.
The Corpulent Manager of the theatre, an impressively rotund bald man with a bristling grey beard, is waiting in the wings for Gideon. He claps sarcastically. "That was a quite a performance, Gideon. I'm honestly surprised the entire audience didn't walk out in the first half-hour of your life story. Are you sure politics is the right line of work for a man of your talents? Obviously acting is your true calling!"
"Alas," says Gideon without a hint of irony, "The stage will have to wait, for my heart belongs to the sciences. This job is merely a passion project for a cause dear to my heart. I started this party for the good of all London, but the people who make it work-"
"For certain values of work," mutters the Manager.
"-are my campaign team. You should meet them! Come backstage with me and I'll introduce you."
Squidley hovers awkwardly behind Gideon, wringing its tentacle-hands.
"You come too, Squidley! I'm sure they'll want to congratulate you for holding up under pressure so well."
The Rubbery trills appreciatively and slopes off in pursuit of Gideon's commanding strides. The Corpulent Manager follows at a shuffle, sweating and swearing at the luck that got him into a deal with this lunatic and his pet octopus.
[OOC: This is a reasonably short RP that will take place during the next few weeks as the Election season goes on. Anyone is welcome to join as a member of the campaign team, a heckler or any number of random intrusions.

[i]If you join the campaign team, your motives are your own: perhaps you truly believe in the Rubbery cause (who wouldn't?) or perhaps you have your own reasons for installing a pliable and incomprehensible candidate in the seat of Mayor. If you're interested, post an introduction to your character below as Gideon, Squidley and the Manager come to visit you backstage, or register your interest in the Google Doc.
[/i] The campaign to elect Squidley was doomed to failure from the moment it began, but there should be plenty of absurdity to extract from it before it crashes and burns.]
edited by JimmyTMalice on 6/25/2017