I've encountered a really strange bug today.
I tried to play the Secrets and Spending to finally buy my Consonant Violin with 5 Marks of Credit.
When I click the option the game tries to load the result but just goes to a white screen in the end.
It keeps doing this every time I try but I can play other cards and storylets without any problems.
Now for the really weird part:
I was playing The Silver Tree at the same time and the first time I played my Secrets and Spending card I played a card in The Silver Tree shortly after the screen going white in Fallen London. This was the result: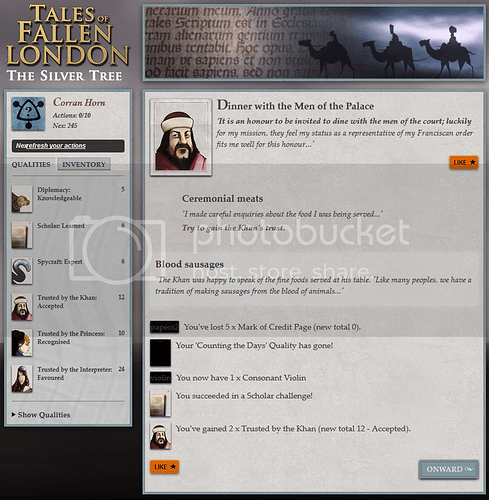 Did this mess up my Fallen London?
Obviously it should not be possible to get the Consonant Violin in The Silver Tree (as in the screenshot).
I'd really like to be able to play Secrets and Spending and get the Consonant Violin.