Update: As of November 2018, there is now a new Winking Isle Indicator that works with the revamped FL UI. The link should take you directly there.
In order to progress the Seeking Mr. Eaten's Name (SMEN) storyline on Winking Isle, it's necessary to NOT possess a long list of items. This Style highlights such items on the Bazaar tab, so you can easily sell them. In use, it looks like this: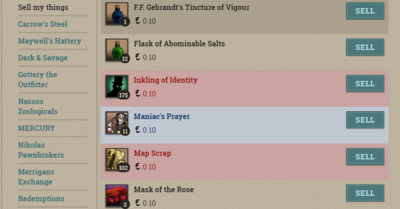 Winking Isle Contraband Indicator is downloadable from the Stylish site, here.
A quick preamble about Styles: if you want to use them you're nowadays better off applying them not with the original Stylish add-on, but with the fork Stylus, available for Firefox, Chrome and Opera. Here is a bit about why, if you're interested.
Contraband Indicator was inspired by mayexist's Chrome extension Winking Isle Fire Sale Helper, which may be of interest as well.
The following discussion from months ago is just kept in for consistency, and to thank people who helped identify the item numbers of esoteric things and give other advice: dov, Màiread, Estelle Knoht, genesis, Optimatum, xKiv, and Tystefy.

Three hardy souls have already installed it, so I guess it's time to finish it. But I could use a little help. I don't yet have the item numbers of the following rare items:
Fabulous Diamond
Rumourmonger's Network
Intriguer's Compendium
Impossible Theorem
Mountain-sherd
Breath of the Void
Veils-Velvet Scrap
Fluke-Core
Reported Location of a One-Time Prince of Hell
I'd be grateful if people who do have them in their inventory could look up their item numbers in the Bazaar tab, and post them in this thread, which I will check (if you find any bloopers, please add them to the thread as well).
This can be done by using Developer on the Firefox menu. You need the Element picker, which is on the top left-hand side of the Developer console: an icon of a box with an arrow pointing to it.
With the Element picker turned on, when you're looking at your worldly goods on the Bazaar tab (not your inventory on the Myself tab) you'll see various elements highlighted as you mouseover the screen. In Firefox, the item number will be indicated by a tooltip. Highlighting exactly the right thing is fiddly; you need the mouse pointer at the extreme top or bottom of the item's slot in the Bazaar list.
Here you can see the info picked out using Firefox: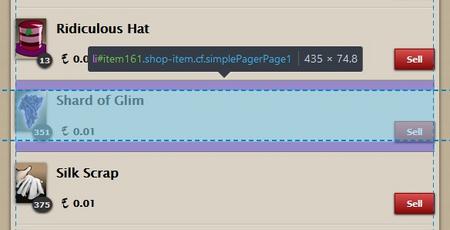 The example item is Shard of Glim, and its item number is item161.
I believe this is an allowable extension as it's merely a timesaver. If it proves handy for others, after a bit of try-out time, I'll try to get it whitelisted.
edited by Vexpont on 1/17/2018
edited by Vexpont on 1/17/2018
edited by Vexpont on 1/17/2018
edited by Vexpont on 11/3/2018