Description
This style adds the echo value of the options on the Faction Conflict Cards. It also adds what will be gained that can't be expressed in echos: menace changes, second chances, bundles, etc.
It also adds the echo value for all the Call in favours storylets, even though they are all the same.
Finally, it also adds a reminder to card options that give a favour when this is not communicated via the text on the card (like the The Heron Tower card).
Screenshot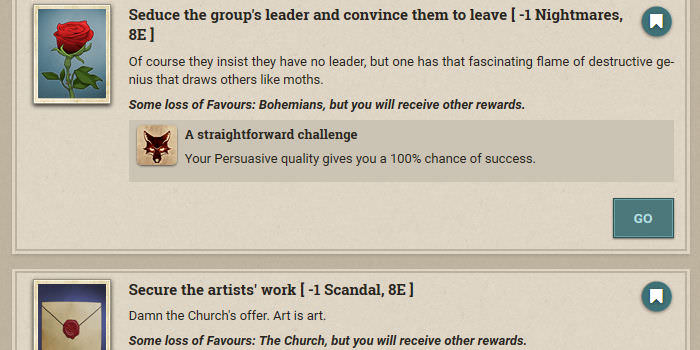 What's a User Style and how do I use it?
A User Style is a small bit of code that changes to layout of one or more webpages. To use them you need a userstyle manager; I recommend using Stylus.
Install link
Other User Styles I made
Remove Specific Go Buttons.
No Ability Improvements on Faction Cards.
Hidden Top Bar.
Survivor of the Affair of the Box highlighter.
Remove Specific Discard Buttons.
edited by Corran on 10/1/2018