Hi all,
I released this on Reddit several weeks ago, but it looks like all the good community is here - so here I am! I also see it's been on sale for Steam Summer Sale, so a good time for this to get some visibility for new users.
Just letting everyone know about an online tool I made, Wolfstack Workshop:
https://amcnicoll.com/shipyard/
The UI (in &quotAnalysis&quot mode) looks like this: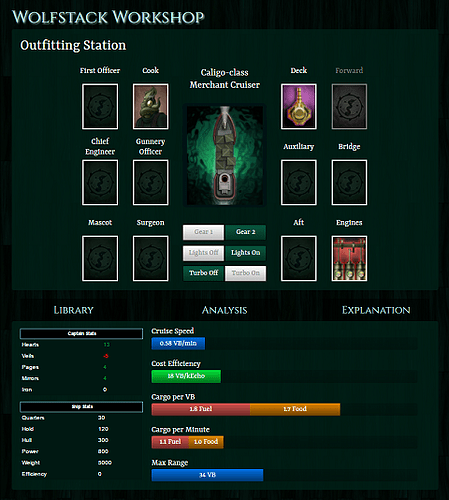 Despite having well over a hundred hours in Sunless Sea, I often found myself a bit confused when it comes to ship performance. Like many others, I didn't quite understand how weight affected speed, how power affect fuel consumption, etc. etc. It always seems like someone is asking &quotIs X better than X?&quot without a satisfactory response.
So, after harvesting some info from the community (specially thanks to rurku1 on reddit for his spreadsheet) I put this tool together for you all to use.
I have a few extra features planned for it (plots! graphs!), but you should find it useful the way it is now. I'll get back to it when I'm done with this busy streak I'm having.
Feedback and questions appreciated! Salt's blessings!