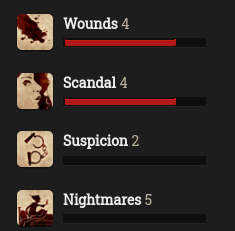 does any of you know how to lower these?
If you need any help, my alt, Doctor Pandora will provide you with all the assistance required. You can send invitations already and/or pop your username so she can send some help over.
Oh, and welcome to the Neath!
As others have said, they are an opportunity to interact with other players.
But if you're so inclined, you might also look on them as a chance to explore otherwise unavailable areas, like the Tomb Colonies (scandal), the Boat (wounds) and the Royal Beth or even Parabola (nightmares).
Maybe not the prison, since you've already been there! But suspicion can also be lowered in Spite, at the sign of the grasping hand. Also a chance to acquire weasels. One can never have too many weasels.
And yes, welcome to the Neath!
So true! So true! (Must hit 20 characters to reply.)
oh ive been playing the game awhile, i just noticed this in some links