[color=#e53e00]The Exceptional Story for May is here![/color]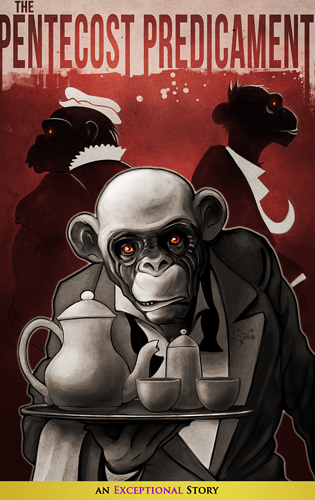 [color=#e53e00]You are invited to a marvellous party!
Be served by trained Pentecost Apes whose aspirations of humanity will amuse and repel. Discover the dark culinary secrets of the Empire of Hands. Just keep a tight grip on your soul.
Treachery. Revenge. Canapés. RSVP for a night you'll never forget.
Play An Exceptional Story: Tea and Sympathy to begin, available throughout London.

The Pentecost Predicament was written by Richard Cobbett. Editing, QA and special thanks: Chandler Groover, Chris Gardiner, James Chew and Olivia Wood. Art by Paul Arendt.


[/color]
[color=#e53e00]EXCEPTIONAL FRIENDSHIP
In addition to a new, substantial, stand-alone story every month, Exceptional Friends enjoy:
[ul][li] Access to the House of Chimes: an exclusive private member's club on the Stolen River, packed with content [/li] [li]An expanded opportunity deck: of ten cards instead of six! [/li] [li]A second candle: Twice the actions! 40 at once! [/li][/ul] This is the final story in the Family Ties season. If you've played The Frequently Deceased and The Seven-Day Reign, finishing this story will make you eligible for an additional opportunity, to follow.
If you want to keep an Exceptional Story beyond the month it's for, you must complete the related storylet in the House of Chimes. This will save it for you to return to another time.
AN UNUSUAL OCCURRENCE!
Exceptional Stories usually change over on the last Thursday of the month, with the new story replacing the previous one. Unusually, The Seven-Day Reign is going to be available to play for a further week! This serves as a welcome to the new Exceptional Friends who've joined us since we launched in the App Store. (Hello!)
Please remember to be liberal with your use of spoiler tags when discussing this story. If you're unsure whether something is a spoiler, use the tag![/color] Here's a reminder of our position on spoilers and guidance.
edited by babelfishwars on 4/28/2016