[color=#0066ff]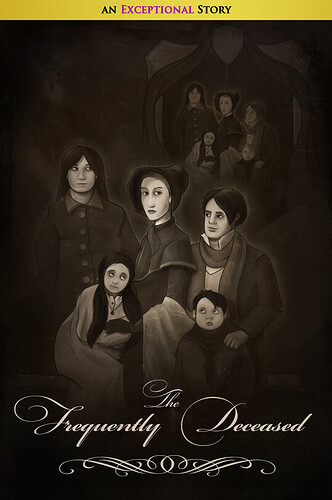 [color=#0066ff]
[/color]
A family of promising youngsters have killed their Governess again. This time, she hasn't come back.

Question servants across London. The chief glass-cleaner at the House of Mirrors. The attendants at a honey-den. Your own staff. Keep the children distracted with Enthralling Tales and your least lethal pets.

Find the Unsinkable Governess.

Play An Exceptional Story: Staffing Difficulties to begin.

The Frequently Deceased is the first story in the Family Ties season. Playing it and the two stories that follow will make you eligible for an additional opportunity.

The recently deceased was written by Emily Short. Editing, QA and special thanks: Cash DeCuir, Chris Gardiner, Olivia Wood and Sam Partridge.

Please remember to be liberal with your use of spoiler tags when discussing this story. If you're unsure whether something is a spoiler, use the tag! Here's a reminder of our position on spoilers and guidance.

In addition to a new, substantial, stand-alone story every month, Exceptional Friends enjoy:
Access to the House of Chimes: an exclusive private member's club on the Stolen River, packed with content![/li][li]An expanded opportunity deck: of ten cards instead of six![/li][li]A second candle: Twice the actions! 40 at once!
edited by h4nchan on 2/25/2016