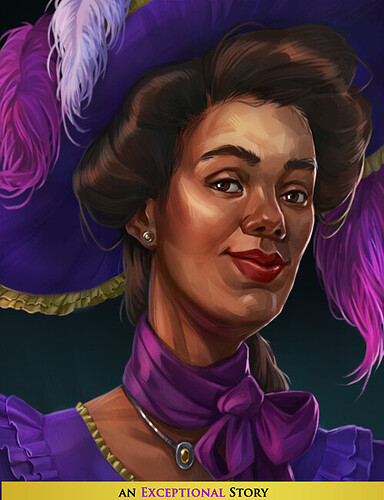 "Counsel for the defence, do you have any further witnesses you intend to call?" The judge is stern. "I believe we have time left for one or two. Provided the court's time is not wasted with amateur theatrics."
A performance interrupted; a melody malappropriated; a courtroom in chaos. The Accused Contralto stands trial, charged with the theft of her latest music-hall song. Take the reins from the Contralto's truly abysmal counsel. Investigate the origins of the contested tune. Lead cross-examinations against eccentric and unwilling witnesses. Pursue truth, or justice, or simple acquittal by any means you can.
One thing is clear: this is no straightforward case. D__n catchy tune, though.
Writing: Katharine Neil
Editing: Olivia Wood
QA: Luke van den Barselaar
Art: Monika Eidintaite
EXCEPTIONAL FRIENDSHIP
In addition to a new, substantial, stand-alone story every month, Exceptional Friends enjoy:
Access to the House of Chimes: an exclusive private member's club on the Stolen River, packed with content
Access to Mr Chimes' Lost & Found, a shop in the Bazaar where you can exchange currency earned through playing Exceptional Stories for exclusive companions and items
Three additional outfit slots
An expanded opportunity deck of ten cards instead of six!
A second candle: Twice the actions! 40 at once!
You no longer need to log in to claim your Exceptional Stories! If you have an active subscription when one is available, you'll receive it automatically.