Exceptional Story for January: Stolen Stanzas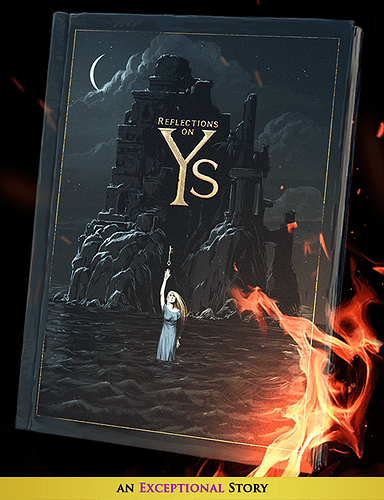 "I'm embarrassed to say I was rather critical of it. But when I heard that the entire print run had been taken, well! I was forced into a reappraisal. The Masters don't seize just any old thing. There will be some secret at the heart of it. Only a few lines perhaps. Some truth that the author has glimpsed."
The entire print run of Julian R. Harvey's poetic epic Reflections on Ys has been confiscated by the agents of Mr Pages! Investigate the contents of this mysterious volume, plan an audacious theft from a Ministry warehouse, and reunite the publisher with his product. Then maybe – just maybe – you'll be able to sneak a peek at the latest work to pique Mr Pages' ire.
EXCEPTIONAL FRIENDSHIP
In addition to a new, substantial, stand-alone story every month, Exceptional Friends enjoy:
Access to the House of Chimes: an exclusive private member's club on the Stolen River, packed with content
Access to Mr Chimes' Lost & Found, a shop in the Bazaar where you can exchange currency earned through playing Exceptional Stories for exclusive companions and items
Two additional outfit slots
An expanded opportunity deck of ten cards instead of six!
A second candle: Twice the actions! 40 at once!
You no longer need to log in to claim your Exceptional Stories! If you have an active subscription when one is available, you'll receive it automatically.