So while going through some old stuff recently I found a bone necklace with a weird symbol carved into it.
According to my mother my late great-grandfather made it at some point in the past.
The thing itself is groovy, so I'll definetly wear it, but I'm curious as to what the symbol signifies.
My family has roots in both south-america and large areas between spain, italy, and south-france so it might be European heraldry or mesoamerican symbolism.
Here's an approximation of what the thing looks like: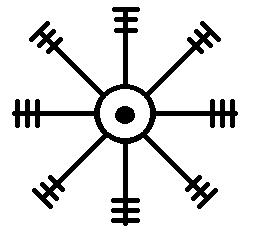 Judging by the shape it might in some way be related to the sun.