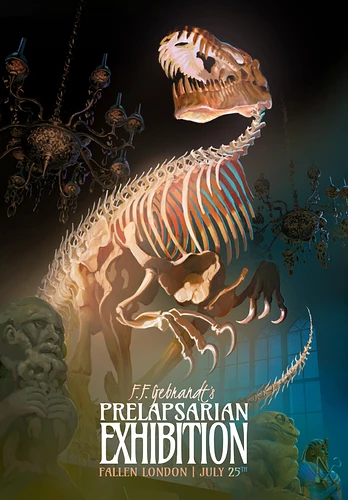 The summer event for 2022 is FF Gebrandt's Prelapsairan Exhibition!
F.F. Gebrandt CORDIALLY INVITES All Londoners to participate in the Raising of a New Museum of Prelapsarian History & accompanying Exhibition, to put on Display Curiosities Historical, Palaeontological, & Philosophical.
The Exhibition will begin on 25th July. It's a free, limited-time event, open to players of all levels.
It comes with a brand-new story taking place over the course of the event, unique collaborative mechanics, new items to collect, and some new permanent additions to London – including Gebrandt's Museum of Prelapsarian History itself.
Come help transform an abandoned estate into a museum! Come help populate the museum with fascinating new exhibits!
We won't go into full detail about what's in store – other than to say there will be surprises.