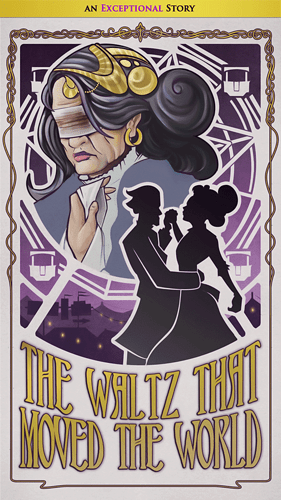 [color=#ff00cc]Twenty-five years ago, the Duke abandoned his family in Vienna.
Twenty years ago, the Duchess sought him in London. He blinded her. She died in Vienna.
Today, their daughter descends to the Neath. She has her mother's bloodied bandages, three leads to her father, and a knife.
Play An Exceptional Story: A Battle by the Stolen River to begin.
The Waltz that Moved the World is the final story in the Heart's Blood season. If you've played Art of Murder and Flint, finishing this story will make you eligible for an additional, delicious opportunity, to follow in February.
Please remember to be liberal with your use of spoiler tags when discussing this story. If you're unsure whether something is a spoiler, use the tag! Here's a reminder of our position on spoilers and guidance.
In addition to a new, substantial, stand-alone story every month, Exceptional Friends enjoy:
[/color][ul][li][color=#ff00cc]Access to the House of Chimes: an exclusive private member's club on the Stolen River, packed with content![/color][/li][li][color=#ff00cc]An expanded opportunity deck: of ten cards instead of six![/color][/li][li][color=#ff00cc]A second candle: Twice the actions! 40 at once![/color][/li][/ul][color=#ff00cc]
(To retain this story for playing at a later date, you must play through the related storylet in the House of Chimes. This will save it from the monthly changeover, on the last Thursday of the month.)[/color]
edited by Cash DeCuir on 1/28/2016