Some time ago, in Fallen London, I recall coming across the recipe for Zzoup, though I cannot recall precisely where. It is given simply as:
With a bit of tinkering, I have now replicated this dish, as below: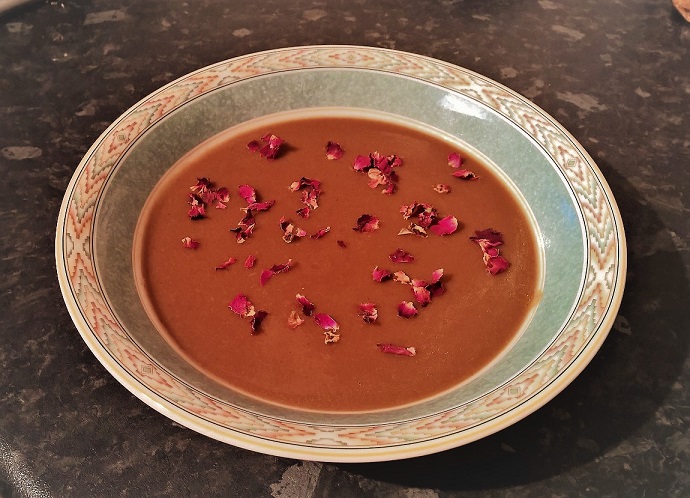 A Recipe for Zzoup:
(Serves 2-3)
3x Medium Onions
1tbsp Butter
1tsp Sea Salt
1tsp Paprika
1tsp Rose Water
1tbsp Plain Flour
1 litre / 1.5 pints Pork Stock
250g / 9oz Dried Porcini Mushrooms
Dried Rose Petals (to garnish)
Prepare your mushrooms for cooking by reconstituting them in a bowl of boiling water. Simply add the mushrooms to the bowl and pour over water until covered (they will probably float, so fill the bowl to about 2/3 full. Should be around 400ml / 2 cups of water). Cover the bowl and leave the mushrooms for 20-30 minutes. After this time, drain the mushrooms (to avoid sediment it is better to remove the mushrooms from the now brown water, instead of directly draining the bowl) and set aside.
Chop the onions and add them to a casserole dish or other deep vessel with a fitting lid with the butter. Stir together and cover with the lid, then 'sweat' the onions for 15-20 minutes on a low heat. This will help break them down and soften them.
When softened, remove the lid and stir in the paprika, rose water, salt and flour. Pour over the pork stock (I used Knorr pork stock cubes as pork is a difficult stock to find in most supermarkets, at least in the UK), add the mushrooms and stir together.
Bring the mixture to the boil, then reduce the heat back to low. Cover with the lid and leave the soup simmering for 30 minutes.
Once simmered, you may wish to blend the solid elements of the soup or serve as is (I blended it). To blend; simply remove the onions and mushrooms with a slotted spoon and blend in a blender until a consistent paste is formed. Pour the paste back into the soup pot and scrape out the remainder from the jug or vessel. Stir together until the mixture is homogeneous.
If you desire, serve garnished with rose petals.

I found the taste to be mostly smoky, but quite filling.  While hot, the strongest flavours are the pork and mushrooms, and the overall impression of taste is quite salty.  As the soup cools, the subtler taste of the rose water begins to become apparent.
[i]edited by Armand D'Alterac on 12/30/2016[/i]