I made a user style to prevent myself (and, now, others!) from accidentally discarding important Opportunity Cards after a couple mistakes involving A Presumptuous Opportunity and An Unsigned Message.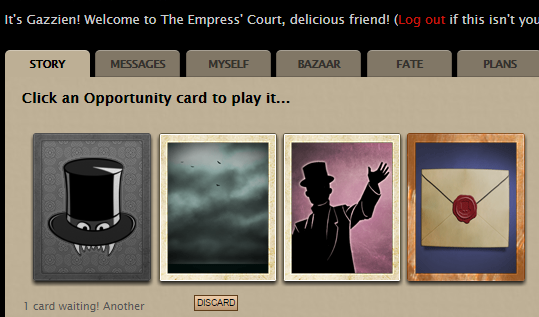 Get it at Fallen London - Opportunity Protector | Userstyles.org
It prevents you from discarding any of the important/rare cards listed below at first, but it's fairly easy to add or remove opportunity cards (instructions in the userstyles.org link).
Installation requires the Stylish browser extension, which is kind of like GreaseMonkey but for CSS. If you don't already have it, a link will be provided on the style's page.
With Stylish installed, just click the big green link with the + button to install Nadir Protector. You can quickly disable it within Stylish if you want to sell your plant, or delete the style if you don't like the changes it makes.
Stylish is a browser extension which allows you to add custom CSS to sites you visit. Opportunity Protector is not a script, but a small CSS patch which applies the display:none attribute to certain parts of Fallen London. It will not play the game on your behalf or send any sort of information to anybody, all it does is modify what you see in your browser.
Please do not report missing &quotDiscard&quot buttons as a bug to FBG if you use this. If you do see errors, particularly display errors, confirm they persist with the style disabled before reporting them to FBG. If the error is on my end, report it here or to me via private message. You use the extension at your own risk. The style may stop working or behave strangely in the event FBG makes a change to their code base.
Thanks to fallingkitten for the idea, and marcmagus for both the Cave of the Nadir Protector (which taught me how to format Stylish CSS) and the main body of this post (which I have shamelessly copy-pasted because wow, it's well explained). (Cave of the Nadir Protector is here: http://community.failbettergames.com/topic20296-user-style-cave-of-the-nadir-protector-pending.aspx ) Thanks to Optimatum here for an easy way to adjust between any size hand.
Thanks to Cecil for the idea of a list of important / rare card eventid's, and for compiling most of these:
10133 - Docks (Parabolan Panthers)
10135 - Bohemians (Parabolan Panthers)
10153 - Society (Parabolan Panthers / Mirrorcatch Boxes)
10800 - The Tower of Sun and Moon: a Reservation at the Royal Bethlehem Hotel
10802 - The Lofty Tower: the Potential of Premises at the Bazaar (4 Scraps)
11208 - A Moment's Peace (Nightmare Reduction)
11338 - A Voice from a Well (Appalling Secret; rare)
11529 - Call in Favours in the Flit (20 scraps from Urchins)
13353 - A dream about a window at night (Is Someone There?)
13368 - A Little Omen (mood)
13373 - A Dusty Bookshop (mood)
14881 - A contact in the Great Game has a tale for you (Church/Great Game conflict)
15360 - Disgraceful Spectacle (Jack Vance memorial)
15957 - Give a Gift (Gifts, many and varied!)
18122 - More Larks with the Young Stags (50CP to Society + Bohemian)
18160 - The Bonfire of the Decencies (Proscribed Materials and London Street Signs; rare)
18161 - A Commotion Above! (Gems, wines, or phosphorent scarabs; rare)
18162 - A Flash of White (Salt Weasel)
18164 - The Mournfully Rubbery Instrument (Rubbery Euphonium)
18165 - A Raggedy Creature (Haunted-looking Dog)
18166 - A Really Nice Haircut (50CP to a stat)
18167 - The Battle Hymn of the Drownies (50CP to Dangerous)
18168 - The Skin of the Bazaar (Scholar of the Correspondence actions)
21762 - A Visit (Contacting Contacts)
22278 - The Soft-Hearted Widow (Adrift on a Sea of Misery, SiC CP, and K&C Openings)
22408 - The Neath's Mysteries (High-EPA social actions)
99374 - An Unsigned Message (increasing stats past 200)
99967 - A Visit from Slowcake's Amanuensis (Notability)
Fate-locked cards: Name only
122163 - A Dream of Blood (rare card, and yes, it's six digits)
Feel free to reply or PM me with more eventid's for the list!
edited by gazzien on 2/9/2016
edited by gazzien on 2/9/2016
edited by gazzien on 2/10/2016
edited by gazzien on 2/13/2016
edited by gazzien on 2/19/2016