Hello, I tried searching for similar topics using &quotshuttered palace&quot but ended up with nothing.
I unlocked the Shuttered Palace at around 60 persuasive, but had a bunch of unfinished stories in the Veilgarden. Once I finished those up, I went to the Shuttered Palace at around 70 persuasive yet there's nothing for me to do there? I'm wondering if this is normal, as all the other places I unlocked for Dangerous, etc. have tons of actions to do. This is what it looks like for me: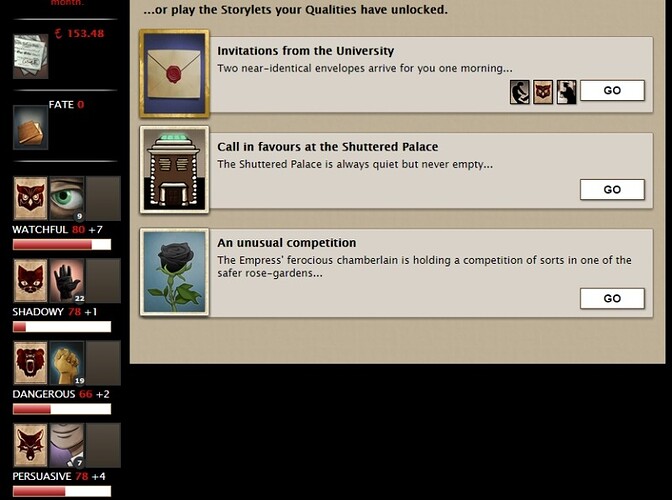 I swear I had more the first time I visited too. I spent most of my Confident Smiles and got my Connoisseur of Neathy Delights to 10 to get my persuasive to 78 since there was nothing at the palace. I figure it isn't because of &quotInvitations from the University&quot since that shows up in every area. Do I need to wait for a special card to pop up at Veilgarden? Or a higher connection to the Duchess or Society? There isn't anything in Veilgarden that's a challenge except the POSI actions that I can't do yet.