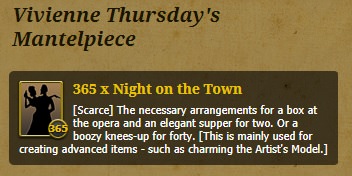 [[Hello, delicious friends! The Feast of the Exceptional Rose—one of my very favourite holidays—is upon us again, and this year, Vivienne and Ginneon Thursday have so very much to celebrate: his recent accomplishments with the Ambitious Barrister, her notable achievement pictured above, and, of course, our lovely couple's first wedding anniversary! All of these delightful happenings have been commingling and conspiring in my writer brain, until it eventually coalesced into an idea for a little forum game, the goal being to 'win' a Night on the Town with the Thursdays during the Feast.
Of course, while they are very charming and make for delightful guests at nearly every occasion, your own goings-on needn't have them at the centre of it all, but must be suitably entertaining that they agree to devote a few hours to such a splendid endeavour.
So, how exactly will this work? Those who wish to participate should make their pitch in the manner of your own choosing. (I'll kick it off by letter below once all the details are explained, but the next person might continue it on by crafting little scenario whereby they encounter V&G gadding about the city somewhere or other, or perhaps just gracelessly running up and shouting in their faces, or whatever else moves your ingenious little soul.)
The more voyeristic sort of forum posters who wish to comment but not participate are also welcome to weigh in on the ideas, in character or out, as a sort of Voice of Society/peanut gallery/Greek chorus, which may or may not have any sway over what the Thursdays chose to do, until one (or both) of your hosts make a decision, and posts a reply. Successful bids will 'win' one of the Nights, and I'll tick them off like a countdown, removing one from my inventory pool each time. (Of course, NotT are not actually transferable, so what you will actually get, beyond the forum post, is a gift box or some other sort of in-game token, or maybe the granting of a small request, like menace reduction, etc.) I'd like to do this for a least the two weeks of the Feast, but if it catches on and everyone is having a grand time of it, there are plenty of other Nights to be given away!
As Vivienne is of the firm opinion that rules are but pesky things meant for other, no doubt dull and uninspired people, I won't impose any, but shall ask only that we try to keep to the convivial spirit of the game, the duration of an evening, and the general themes of topic, language, and politeness established by the Powers that Be here on the forums and in Fallen London on the whole.
Good luck, everyone, and my fondest hopes that you all feast long and well!

]]
Intro post to follow!
edited by Vivienne Thursday on 2/8/2018