Well, the rewards for the POSI 'Unfinished Business' actions have been randomized for a while now. That's fine - it does serve to make things more realistic. You're not going to come away with an even 100 rats every time you pilfer a stall; you're not going to find the exact same amount of prisoner's honey among abandoned stage props. But the ranges are so wide they warp back into unrealistic again, I'd argue. Your experienced thief, stealing one rat from a stall and then calling it a day? To say nothing of the effect it has on the player.
For instance, take this, from this morning;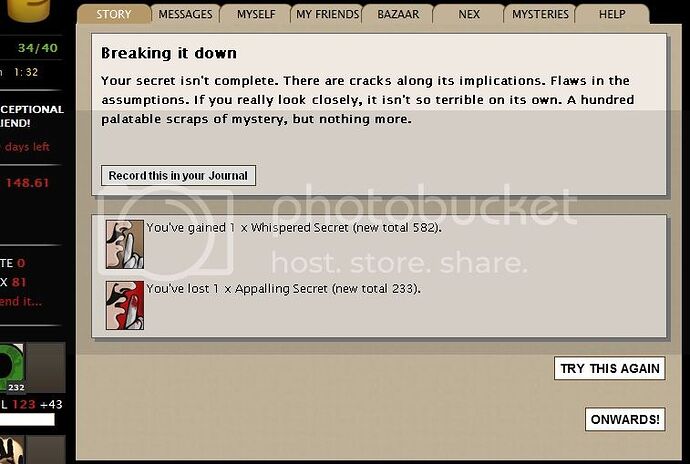 A bit of a 'Well, then' moment. Sadly, not the first time this has happened to me. We've all been there.
I don't know about everyone else, but I'd personally be happier if the range for something - like the aforementioned - was 50-250, or even 100-200, than the apparent 1-300. Getting high values feels nice, certainly, but when you happen across the lowest possible values, you feel downright cheated for your actions. Even if the average comes out to be the same (or it should, generally speaking), you still get a pretty deep feeling of disappointment when you get a 1 PPA yield from something that used to be a flat 100. Note the following, which happened to NiteBrite (and keep in mind that this is a 5-action option);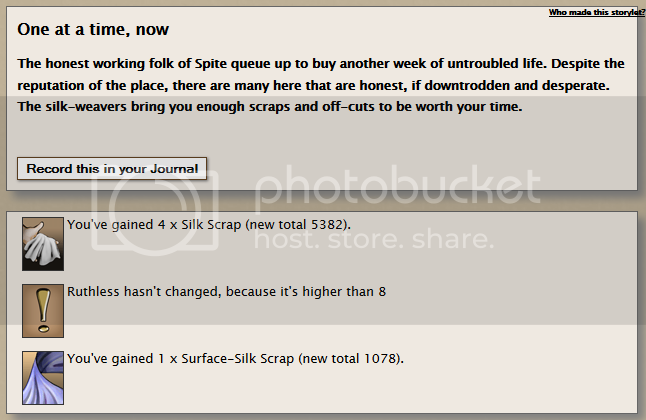 I felt annoyed when I only got maybe 80 silk scraps and 10 surface silk out of this one. But this? Eesh.
Anyway… your thoughts? Agree, disagree? Suggestions?[li]